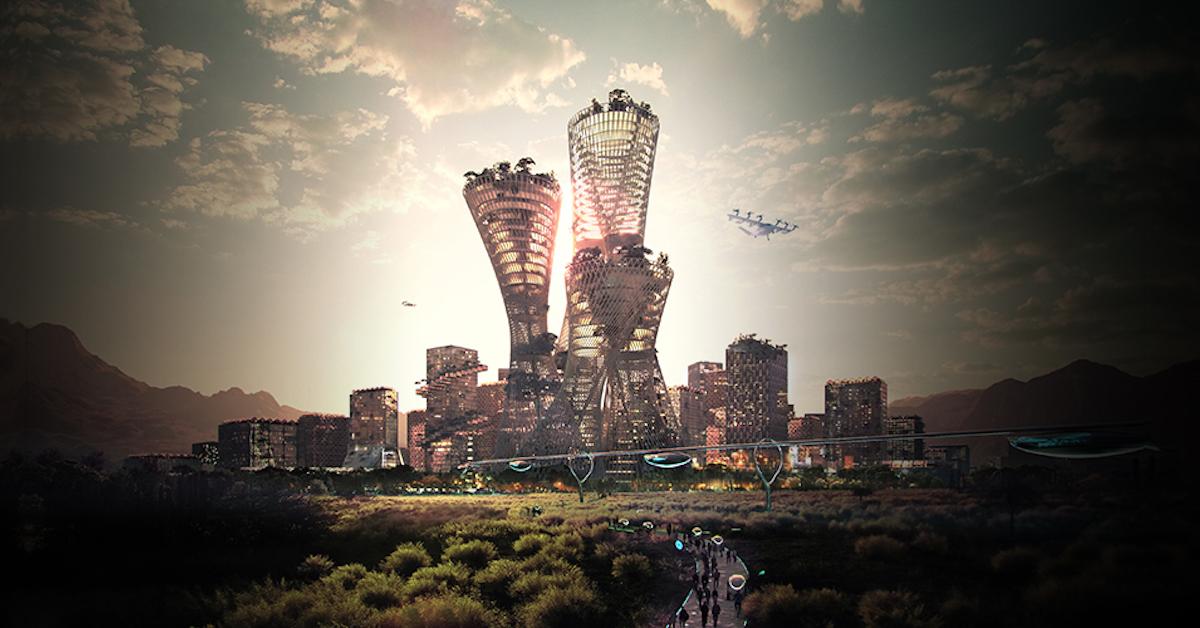 If you live a zero-waste or sustainable lifestyle, you've probably thought about how nice it would be to live in a low-impact bubble — a city where everyone composts, drives electric cars, eats plant-based, and wears thrifted clothing. As it turns out, a billionaire is in the process of building one such community. OK, it may not be exactly what you're picturing, but the recently unveiled plans for the City of Telosa show that it's being designed to be one of the most sustainable cities on Earth.
As founder Marc Lore (more on him below) put it in a video announcing the project, Telosa will be "the most open, the most fair, and the most inclusive city in the world," with a mission to "create a more equitable and sustainable future."
The City of Telosa is all about sustainability and equity.
This week, the team behind the upcoming City of Telosa finally revealed their plans for the city. According to Lore, most cities that have been built from scratch in the recent past have simply been "real estate projects." Telosa is being built from scratch too, but it's different because it will center the people, along with its mission and values.
Lore is designing the city by combining the best elements of various cities around the world — for example, he wants it to be "as vibrant and diverse as a New York City, combined with efficiency safety and cleanliness of a city like Tokyo, combined with the social services, the sustainability and the governance model of a city like Stockholm."
How is Telosa sustainable?
Telosa will be built to accommodate bikers and pedestrians; cars will be self-driving and slow moving, to keep bikers and pedestrians safe; and there will be an efficient public transportation system. The city will also feature an underground movement system to safely and cleanly transport waste and other goods.
The city will have a photovoltaic roof, raised water storage, and aeroponic farms for growing produce that can be sold locally. Even though Telosa will be an urban city, there will be plenty of native plants, parks, and open green spaces — which studies show have endless benefits for citizens.
Telosa will also consider sustainability and the environment throughout its construction process to make it as sustainable as possible. For example, the planners will consider the existing natural environment to support the natural resource flow; fossil fuel-powered vehicles will not be allowed during construction; all buildings and other infrastructure will be "green"; Telosa will be built around a circular materials economy; and Telosa will create a fund to preserve the region's natural resources and restore critical animal habitats.
Who is building Telosa City? Marc Lore is leading the venture.
Serial entrepreneur and billionaire Marc Lore is the main visionary behind the City of Telosa. He previously served as the President & CEO of Walmart's e-commerce division, the CEO and co-founder of Quidsi (owner of 1800DIAPERS aka Diapers.com), and the CEO and co-founder of Jet.com. He is also an owner of the NBA team the Minnesota Timberwolves and the WNBA team the Minnesota Lynx.
European architect Bjarke Ingels and his company, Bjarke Ingels Group, are the masterminds behind Telosa's design. The BIG team hopes to hit the "fertile overlap between pragmatic and utopia" when designing and constructing Telosa. Ingels was the architect behind both Google and Apple's headquarters, according to Fortune.
The Junto Group is a new company that was founded to manage the construction of Telosa. It is a team of various professionals working to make Telosa as sustainable, equitable, and inclusive as possible, including city planners, community engagement experts, designers, engineers, economists, financial managers, and scientists.
When and where will the City of Telosa be built?
According to the city's website, Telosa will be built somewhere in the U.S., likely somewhere in either the Appalachian Region, Arizona, Idaho, Nevada, Texas, or Utah. The team estimates that Telosa's first residents will move in by 2030.
So if you think you'll be interested in a very big lifestyle change about a decade from now, sign up for updates here — Telosa just may be your personal utopia.
More From Green Matters
© Copyright 2021 Green Matters. Green Matters is a registered trademark. All Rights Reserved. People may receive compensation for some links to products and services on this website. Offers may be subject to change without notice.